1. Punakha Dzong
Also known as Pungthang Dewa chhenbi Phodrang, this is the administrative center of the Punakha district of Bhutan. Construction of Punakha Dzong was completed in 1637, making it the second oldest dzong in all of Bhutan. It is also the second-largest dzong in Bhutan and one of the most beautiful.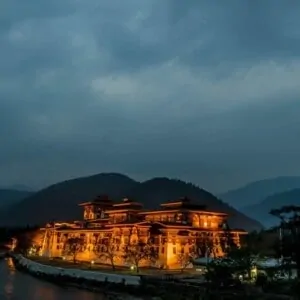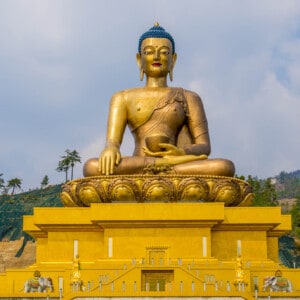 2. Buddha Dordenma Statue
This is one of the largest Buddha statues in the world, standing at 169 feet (52 m) tall. This statue was completed in September of 2015, celebrating the 60th anniversary of fourth king Jigme Singye Wangchuck. The statue houses over 100,000 smaller Buddha statues inside it.
3. Dochu La (Dochu Pass)
This mountain pass sits on the East-West Road from Thimphu to Punakha. This pas gives visitors a great view of the highest peak in Bhutan. This pass is home to 108 chortens or stupas, the pillar-like structures seen in the photo.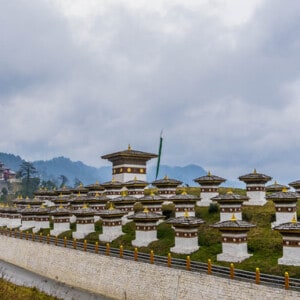 4. The Festivals (Tshechus)
Tsechus are annual Bhutanese religious festivals. These festivals are held in most of the big cities in Bhutan. The Thimphu and Paro tshechus are among the largest festivals in the country, with thousands of locals and tourists in attendance. Find more info on on "Tours" page.
5. Tiger's Nest Monastery Temple (Paro Taktsang)
The Buddhist monastery temple is located on a cliffside in the upper Paro valley. Paro Taktsang was first built in 1692, making it one of the oldest Buddhist monasteries in Bhutan. Learn more about this on our "Tours" page.