The All-In-One Bhutan Photography Tour
Bhutan is one of the most picturesque countries in the world. Surrounded by the Himalayas, the natural beauty of this country is astounding. However, it is not only the natural beauty of this country that is worth taking a photography tour. Bhutan is known for its many vibrant cultural festivals. Between the many Bhutanese festivals, Monastery temples, and Himalayan beauty, you will never run out of photo opportunities on your Bhutan photography tour. Look below for information on how to book our Bhutan photo tour.
The "All-In-One Photo Tour" is the best Bhutan photography tour you can find.
Photograph every aspect of Bhutan's beauty
Visit two of the countries most renowned festivals, the Thimphu and the Tangbi Nabi
Visit the Tiger's Nest Monastery (shown above)
See Mount Jumolhari and the eastern Himalayas take over the clear blue sky.
Look below for inquiries on this Bhutan photography trip!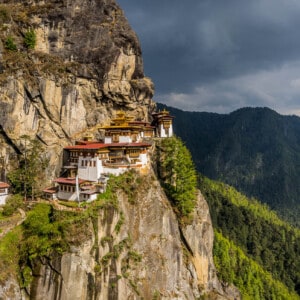 Read Reviews of Our Tours
Over the last few years, Bhutan Visits has completed many tours with many satisfied customers. Read about their experiences by clicking the button to the right.
Visit our founder's photography website, here, to see his explorations through Bhutan and many other countries!